We look forward to promoting Erasmus exchanges and co-creating innovative pedagogical tools with these great professionals! (only in the social media post topic section)
To launch our @c4e project, a Training Activity on how to develop the mentoring and integration of nursing students from another culture in a clinical environment was organised in Zoom coordinated by @laureauas. On the first day of the Training Activity we gathered to discuss the current situation in our countries and organisations. We also wanted to identify the training needs, existing good practices and possible concerns in each country, and therefore created a Padlet activity around these topics in the first workshop. On the second training day we had the great pleasure to familiarise ourselves with the research findings of professor @Kristinamikkon and researcher @OikarainenAsh from the University of Oulu, Finland. A huge thank you for your participation, we are so grateful that you could share your profound knowledge of the integration of culturally and linguistically diverse nursing students into healthcare organisations as well as your brilliant expertise in cultural competence education for mentors with us!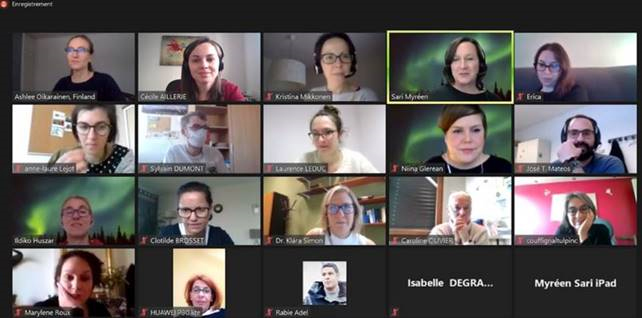 Later in the afternoon on the second training day, we had a change to have a workshop on professional language skills for nursing with researcher Inkeri Lehtimaja who provided us with useful tips and recommendations on how to support the students' foreign language learning during training. Thank you for this very valuable information for us!
On the third training day we an interesting opportunity to retrace an Erasmus student's internship path in a clinical environment in France. We could experience through many testimonies how rewarding it can be to have an international trainee on the ward, both from the professionals' and patients' viewpoint.
On the fourth training day we became familiar with our Hungarian partners, their university and PhD Orsolya Máté's studies on transcultural nursing. We are also very fortunate to have Orsolya as a member in this project!
On the last training day we could travel virtually to Spain and meet several healthcare professionals from the University of Lleida. The day was a perfect way to conclude our first training activity, which served as a very important starting point for our intellectual outputs and provided us with a solid base for the future work.
See you soon for the next episode of @c4e project!
http://www.care-for-europe.eu/
#nursing #interculturality #intercultural #c4e #Erasmus #healthcare #culturaldiversity