PROGRAM LAUNCH: PHYSIOTHERAPY MSC from September 2022
The Physiotherapy Master's program in Hungarian language has been available at the Faculty of Health Sciences since 2015. From the academic year 2022-2023, it will be offered in English language as well, for international students!
We are accepting applications until July 31, 2022.
Submit yours on apply.pte.hu!
3 REASONS TO CHOOSE THE PHYSIOTHERAPY MSC:
Reach the Master level with only 1.5 years of further studies!
Widen your opportunities to work in the highest-paid, senior physiotherapy positions!
Open the gates to continue your studies on PhD level!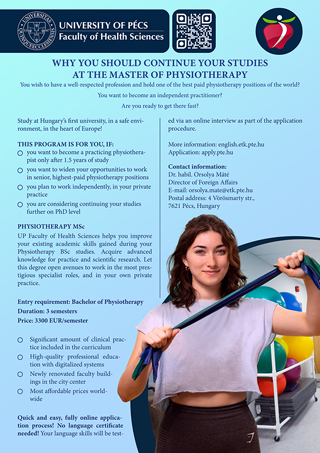 PROGRAM DESCRIPTION:
https://international.pte.hu/study-programs/msc-physiotherapy
In case of any questions, please contact the International Office of the Faculty of Health Sciences:
Dr. habil. Orsolya Máté
director of foreign affairs
intoffice@etk.pte.hu